Goal: To build a new laydown four cycle kart.
Starting Date: July 9th, 2013.
Type Of Kart: Kart will be built to run in the K.A.R.T. Briggs Sportsman class at 410 pounds.
Design Features: To be easy to build, fit any size driver, and be cheap to operate.
Current Status: Some parts ordered and drawings are in process.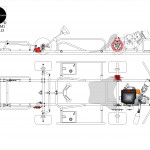 Here is the sketch of the kart. Wheel base is 45 inches and the width is 37 inches. Tires are drawn as 5 inch MG reds, 4.50 fronts and 6.00 rears. Lots of things to work out "in the metal".
More info to follow.